About Me


I have so loved growing up in this exciting evolving city! I am proud to call this city my home. The Memphis Medical Center is very impressive and continues to grow, and we are proud to be corporate headquarters for Federal Express. From our NBA team, the Grizzlies, the continuing development of Shelby Farms, to the new vision for the Pyramid Bass Pro Shop, our Memphis has a lot going for it. What's not to love?
Memphis is one of those big cities with a small town feel, because of the close knit communities within it. People care to know where you went to elementary school and high school foremost, and then they might ask you where you went to college. I went to elementary school at Christ Methodist Day School (CMDS) located in the middle of East Memphis. After sixth grade, I moved to Evangelical Christian School (ECS) in Cordova, where I went to middle and high school. I attended Covenant College in Lookout Mountain Chattanooga for three years to get my prerequisites for dental hygiene. I got my bachelors degree in dental hygiene from the University of Tennessee Health and Science Center right here in Memphis! I enjoyed being a full time dental hygienist for 3 years, but I always had real estate in the back of my mind. My husband was a huge support and encouraged me to pursue the career in real estate. I have been so blessed to be able to assist people with buying and selling homes, and I truly love it!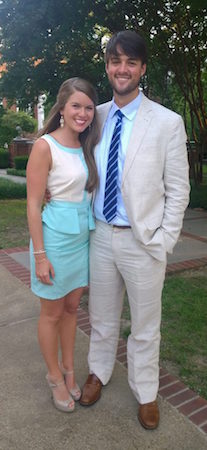 My husband and I attend Independent Presbyterian Church where he serves as a deacon, and we both serve as leaders of our 20's something community. We have no kids yet, but we have our hands full with our 100 plus pound Bernese Mountain dog, named Timber and a frenchie mix with too much energy, named Tank. We are currently trying to get better with our tennis skills and intend to play often this year! We own our first home in Highpoint Terrace across from Galloway Golf Course in East Memphis.